Vibration sensor
---
---
Product description

(1) The sensor adopts Japanese imported vibration sensor, which has low output impedance, high anti-interference ability of output signal and high sensitivity.
(2) Using the industry standard 4-20mA signal output and raw voltage signal output, the vibration signal M is converted into an electrical signal E, and transmitted to the cloud platform through the wireless module.
(3) The data collection and uploading of the measured object is realized, and the functions of real-time monitoring, monitoring system data display and monitoring system alarm are realized.
---
Features
The monitoring system analyzes the transmitted data. If the analysis data is abnormal, the monitoring system will prompt the equipment fault point and suggested solution, and display the error interface and SMS alarm notification.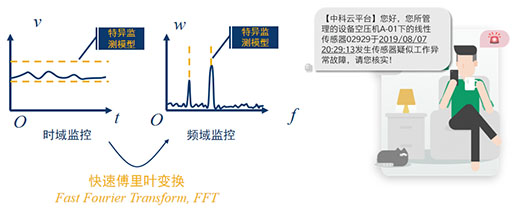 ---
Technical parameter
Sensor parameter

Communication parameters

Solution composition: NB-IOT module + PCBA

GPS/Beidou chip: TD1030

GPS frequency: L1, 1575, 42MHz C/A code

Beidou frequency: B1, 1561.098MHz

Positioning accuracy:<10m

Positioning time:

Average hot start: ≤5s

Average cold start: less than or equal to 60s

Communication standard: WCDMA, LTE

Frequency band: 1.3.5.8.34.38.39.40.41

Transmit power: 23±2.7dB

Receive sensitivity: -120dBm

UIM card: card

Communication method: 4G/NB optional

Alarm parameter

Other parameters

PC-side alarm: pops up the alarm interface when the vibration speed is outside the specified range

Small program alarm: pops up alarm interface when vibration speed exceeds the specified range

SMS alarm: When the vibration speed exceeds the specified range, the SMS will be sent to the bound mobile phone.

Supply voltage: 12Vdc~30Vdc (loop power supply)

Operating temperature: -20 ° C ~ 85 ° C

Weight: about 300g

Housing material: stainless steel

Antenna: 4G extension antenna, rod antenna

(Note: Communication parameters vary according to the selected NB, GSM, CDMA, etc.)
Click to order